Priority Excavating
Priority Excavating desired a new office headquarters with a modern, industrial design. ETHOS Design Group used contemporary and edgy design strategies, and industrial looking interior finishes to fit the function of the space, blending several flooring materials to fit the function of the space, using unpainted door frames finished with clear sealer instead of paint in order to feature welds and grinding. Modern clean lines of the reception desk and ceiling clouds provide contrast to industrial undertones. Stone, metal, and wood were mixed to add interest to the space. Furniture specified provides functional solutions with modern finishes, contrasted by custom stainless pieces such as an airplane wing used for a conference table.
Completion Date: May 2016
Project Cost: $650,000
Project SF: 4,901 SF
Mercedie's Nail Salon
Mercedie's Nail Salon is located on the West Glen Town Center. The owner wanted a vibrant, contemporary design where clients could refresh during their visits. An eye-catching carpet pattern, striking lighting fixtures, and modern furniture provide this space with an energetic feel.
Completion Date: March 2016
Project SF: 1,393
Maytag Student Center Renovation
The Maytag Student Center was underutilized. Central College desired to create opportunities, services and spaces that would attract and retain students and give them reasons to hang out and socialize at Maytag Student Center. ETHOS Design Group provided design work on a café/ coffee shop/kitchen, the campus book store, a suite of offices for staff and student organizations, a mail room, and wellness center. ETHOS also provided attractive and comfortable interior finishes and furniture to create interest and intrigue.
Completion Date: September 2014
Project Size: 20,000 SF
Cost: $3.1M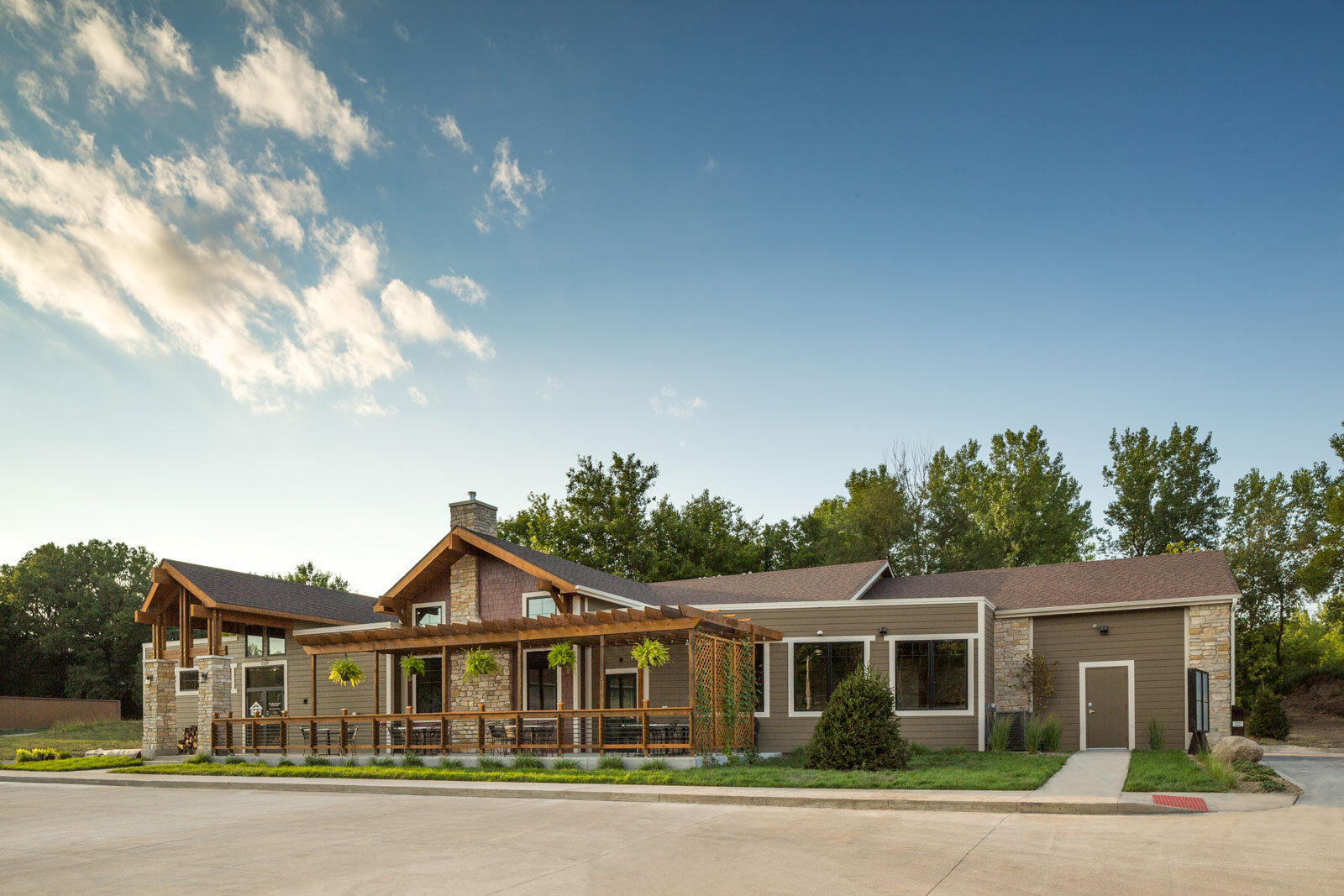 Freedom Blend Coffeehouse
Freedom for Youth, a non-profit organization providing educational and life skills training to youth in Des Moines, approached ETHOS Design Group to complete design services that adapted an existing car wash building adjacent to their offices into the Freedom Blend Coffeehouse. The building will be a full service coffeehouse with a kitchen, roast room, patio and drive-thru. The design also includes an assembly room, classrooms, and conference rooms. These rooms were designed to be flexible spaces to allow for the variety of activities Freedom for Youth will host. ETHOS provided both architectural and interior design services featuring a fireplace and lodge atmosphere.
Completion Date: 2017
Project Size: 5,079 SF
Project Cost: $850,000
Type of Delivery: Design/Build
Nunnikhoven Barn Restoration
In 1992, Mike and Cheryl Nunnikhoven bought a farmstead on the edge of Pella and began their landscaping business. The property included a 40'x70' barn that was constructed in 1948. In 1994, they converted the lower level of the barn to retail space and Nursery and Dutch Meadows Landscaping & Nursery opened in the the Spring of 1996. With a growing family of 4 children they made the decision to level the old farmhouse and convert the upper floor and loft in the barn to their personal residence. The Nunnikhoven's hired Tim Olson to develop the floor plan and design of their living space. The garden center occupies 2,800 SF of the ground floor, while the 4,500 SF living space is on the 2nd and 3rd levels, with a 100 SF cupola on the 4th level, providing a spectacular view of the countryside.
Completion Date: 2000
Project Size:
4,600 SF Living Space
2,800 SF Garden Center
Cost: $350,000
White Oak Winery
Chris and Janet Harmeyer loved to grow grapes and make their own wine. After years of maintaining their day jobs and growing grapes and making wine in their spare time, they decided to make an investment in their own winery. Their goal was to build a winery to process their own wine and to provide a dining experience and point of destination for wine lovers throughout the Midwest. In 2005, they hired Tim Olson to design their winery and restaurant. Their winery includes a 6,300 SF 2.5 story facility with wrap-around porch, cedar siding and stone veneer. The interior features mission style oak trim, beams, and white oak floors throughout the tasting room and banquet hall. The lower level has a walk-out for their processing facility with an overhead door and 14' tall ceilings for the storage tanks. The building has geothermal heating and cooling.
Completion Date: 2006
Project Size: 6,300 SF
Type of Delivery: Design / Negotiated Build
Commercial/Retail